Babst Calland Names Katrina Bowers a Shareholder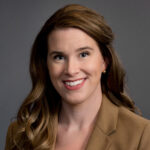 Law firm Babst Calland recently named Katrina N. Bowers a shareholder in the Firm.
Katrina Bowers is a member of the Corporate and Commercial, Litigation, and Energy and Natural Resources groups. Ms. Bowers currently serves as General Counsel to the West Virginia International Yeager Airport, and as general counsel and advisor to airports in West Virginia, on day-to-day legal and business matters, such as compliance with West Virginia and federal law, employment and litigation matters, corporate governance, and contract negotiations.
Ms. Bowers' practice also includes representing oil and gas companies in litigation concerning a variety of matters including trespass, negligence, property damage, royalty payments, toxic torts, title disputes, breach of contract, preliminary and permanent injunctions, and fraud as well as advising them regarding proposed, pending, and enacted safety, health, and environmental regulations. Ms. Bowers has also represented coal operators in cases alleging adverse treatment, deliberate intent, and wrongful termination. Further, she has represented clients against civil penalties and violations issued by the Mine Safety and Health Administration and the Occupational Safety and Health Administration.
Ms. Bowers is a 2013 graduate of West Virginia University College of Law.